The Catlins and Ōtewao/Forest Hill Biodiversity Project is in partnership with the Department of Conservation Jobs for Nature.
The aim of the partnership is to provide immediate employment to contractors and displaced workers with the additional benefit to include whānau support for reconnection with their whenua, provide ongoing training which will lead to employment and to restore the native forested areas of Murihiku to a more resilient ecosystem for indigenous biodiversity. This would necessitate an effectively pest-predator free landscape, one in which local people are actively engaged in practical management and in the sharing of scientific and cultural knowledge of the land.
Vision
To enhance the mana of the landscape through protection and enhancement of biodiversity, while also building life opportunities for local people through kaitiakitanga and cultural reconnection within Murihiku.
Catlins
The Catlins region contains a wide variety of native plants communities from seashore to subalpine zones and the wildlife of the area is accordingly abundant and diverse. The forest and scrub associations are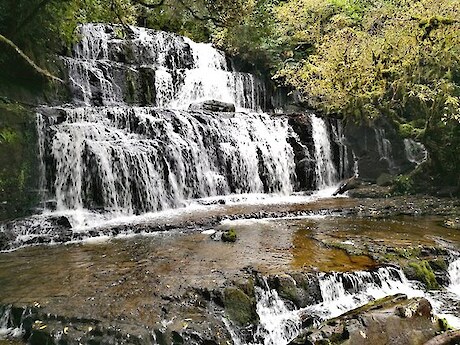 Purakanui Falls. Photo: Trip Advisor.particularly interesting in that they support high numbers of birds and other animals compared to many other forested areas of the South Island. Although kiwi, weka and robins are now absent, the forests have nationally declining species such as long tailed bats, blue duck, karearea, red crowned parakeets, fernbirds, yellowheads, and forest gecko (Hoplodactylus Granulatus).
There has since been a colony of gecko found adjacent to the control area in the Lenz reserve, and bird recorders have found long tailed bats near the control boundary. The coastal habitats are also very important as they support breeding colonies of fur seal, southern sea elephants and several species of seabirds notably yellow eyed Penguins. Some predator and monitoring control around nesting sites would benefit these endangered birds.
Of the small animal life, several exciting discoveries have been made. New species of millipede, and terrestrial snail were found at the Ajax Bog and elsewhere over the region. In view of the values, the Catlins region is regarded as being of outstanding importance to wildlife and all steps should be taken to protect all valuable habitats. In particular these include one of NZ best coastal communities of lowland podocarp forests and also a stands of silver beech forests, with high value estuaries, streams, and swamplands.
Furthermore, continued control of introduced mammals and restoration of deteriorating habitats will improve the natural environment. Coastal sand dunes are one of New Zealand's, most threated environments. Widespread grazing and burning of dunes during the late 19th and early 20th centuries resulted in a decline in native vegetation and an associated increase in dune mobility.
It is hoped that some sort of replanting of these areas would be done in conjunction with the predator work in future years as the control area expands. These projects coincide with the native plant nurseries currently being established by the four rūnanga o Murihiku.
Find out more about the Catlins Jobs for Nature project - and how you can get involved!
Ōtewao/Forest Hill
Ōtewao/Forest Hill is a major conservation asset in Southland and is widely used for recreation by people in the Winton District, Invercargill and wider Murihiku/Southland. The conservation and cultural values of the Reserve are widely appreciated. Forest Hill contains the most diverse flora of any forest remnant on the Southland Plains and the limestone caves at Forest Hill have yielded skeletons from the past Kiwi, Moa, Kakapo, Saddleback, various seabirds, and many other native species. Although several of these species have gone forever their remains provide a guide to the outstanding biodiversity that the wildlife of the area held prior to humans arriving.
Find out more about the Ōtewao/Forest Hill Jobs for Nature project - and how you can get involved!